Maiev Shadowsong is an alternate portrait for the Rogue class. I got her in 2017, when she was first made available. At the time, all the player had to do was win 10 games in Standard Play Mode in order to unlock the Maiev Shadowsong portrait.
According to the Hearthstone Wiki, the release of the Maeiv Shadowsong portrait was part of the run-up to the start of a new year. The Year of the Mammoth ran from April 6, 2017 to April 12, 2018.
The Hearthstone Wiki about Maiev Shadowsong says: Maiev became available to players after they won 10 games in Standard format Ranked or Casual Play mode during the Year of the Mammoth.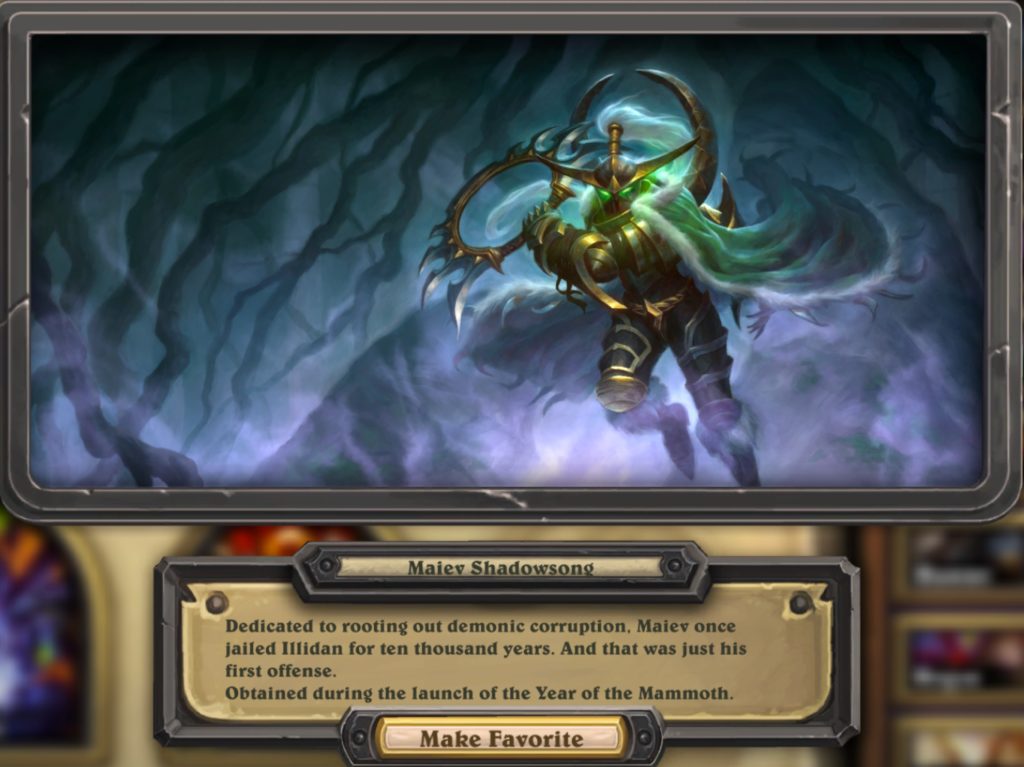 Maiev Shadowsong: Dedicated to rooting out demonic corruption, Maiev once jailed Illidan for ten thousand years. And that was just his first offense. Obtained during the launch of the Year of the Mammoth.
I went through my old screenshots, searching for the ones that showed that I had won 10 games. I couldn't find them. Honestly, I think those would have been kind of boring to look at, considering how long it has been between when I won those ten games and now.
The Hearthstone Twitter account (@PlayHearthstone) posted a tweet on March 9, 2021 about the Maiev Shadowsong hero portrait. "Maiev Shadowsong is back at the Tavern! This alternative Rogue Hero includes an animated portrait, new visual effects, and unique emotes! Visit the Collection Manager to equip your favorite heroes!"
This offer was available until March 21, 2021. At the time, Blizzard was selling the Maiev Shadowsong hero portrait for $6.99 or 1000 gold. The Hearthstone Wiki provided an update. Players can now obtain the Maiev Shadowsong hero portrait in the Collection Manager for 1200 gold.
Hearthstone: Maiev Shadowsong is a post written by Jen Thorpe on Book of Jen and is not allowed to be copied to other sites.
If you enjoyed this blog post please consider supporting me on Ko-fi. Thank you!