Medivh is an alternate hero portrait for the Mage class in Hearthstone. Players can obtain the Medivh portrait by spending in-game currency.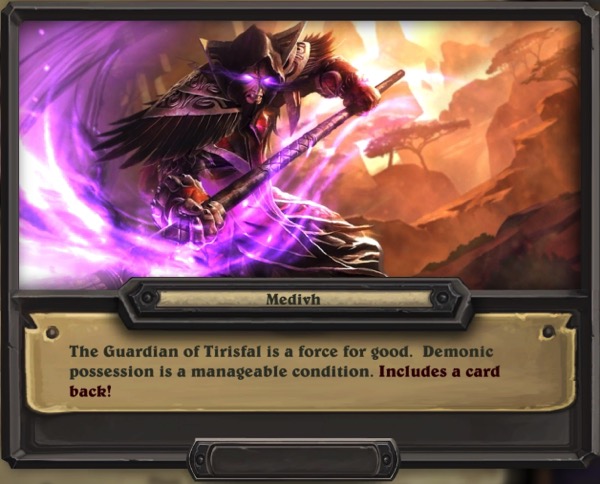 Medivh: The Guardian of Tirisfal is a force for good. Demonic possession is a manageable condition.
The Medivh portrait comes with a unique cardback.
The way to "earn" this cardback is to purchase the Medivh portrait. You get both!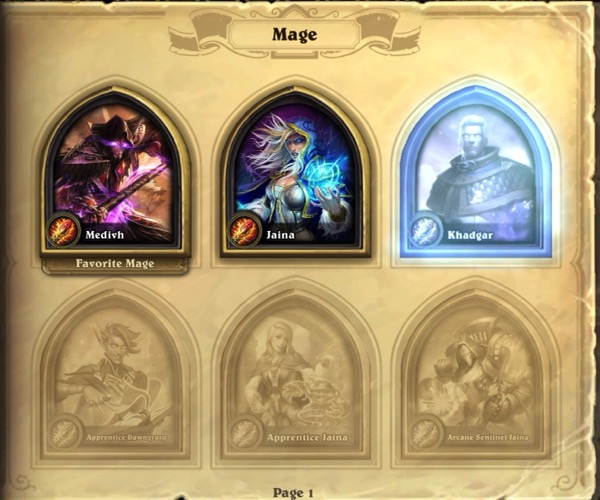 Jaina is the default for the Mage Deck. Players can swap her out if they want to use Medivh. You can always swap back if you change your mind.
A closer look at the Medivh cardback.
The description of the Medivh cardback is: He certainly has a thing for crows and ravens.
The box also says: Acquired from purchasing the Hero Medivh.
I like that Hearthstone makes it very clear that this cardback is one that can be purchased by the player (if the player has enough in-game currency to spend on it). You don't have to finish a quest, or have a certain number of wins, in order to get this portrait and cardback.
Hearthstone: Medivh is a post written by Jen Thorpe on Book of Jen and is not allowed to be copied to other sites.
If you enjoyed this blog post please consider supporting me on Ko-fi. Thank you!