Season 15 was the Boon of the Horadrim season. It gave players extra stuff for completing Bounties. It also had the Rathma's set as the "freebie" for Necromancers. Those who finished Chapter IV got a creepy hand pet.
In this blog post, I have a quick look at the progress I made through Season 15. Overall, I wish I could have spent more time playing than I did. But, I'm not unhappy with how things worked out.
The first thing I did in Season 15 was the Challenge Rift. Technically, it is not part of the Season. The main reason to start with whatever Challenge Rift is available at the beginning of a brand new Season is to get some experience points and a Cache of useful stuff.
It took me several attempts before I was able to complete this Challenge Rift. My time was 5:58.866. The target time was 5:47.216. I failed, but not by very much.
My best time on this Challenge Rift was 4:45.483. It under the target time, and I was able to earn the weekly reward.
Early in Season 15, I made an effort to play with other people. In the above screenshot, I was playing with some people who are part of the Shattered Soulstone Discord.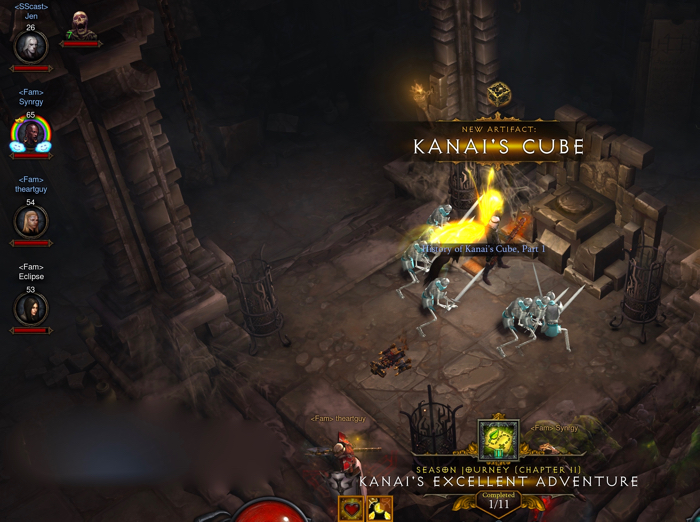 In the screenshot above, I was playing with people who are part of the Discord where we play Dungeons & Dragons.
Overall, I find playing in a group to be more fun than playing solo. Its nice to be able to talk with people who are working on the same Seasonal Objectives as I am. The game also moves a lot faster in a group than solo – especially when leveling up to Level 70.
I play solo if I am intending to stream. Right now, I'm reasonably comfortable playing Diablo III (or other video games) on Twitch by myself. Streaming while playing in a group just doesn't feel right to me. I also play solo if I'm sick, so I won't slow down a group.
This is what my Necromancer was wearing when he hit Level 31. I love how creepy it looks, especially with Malfeasance as the pet.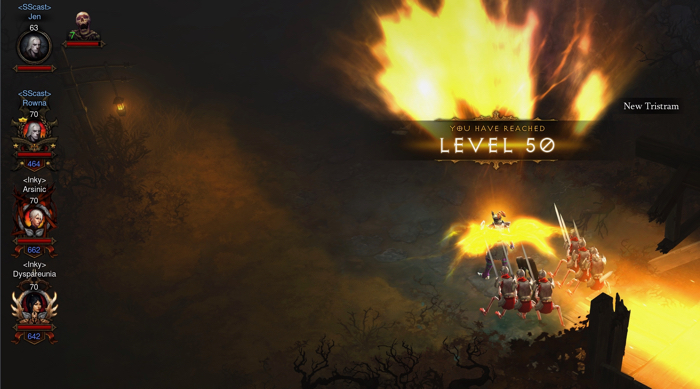 In the screenshot above, I was playing with a group that was leveling me up so fast that the game couldn't keep up. As you can see, it says I hit Level 50. But, if you look at my portrait, I was actually at Level 63.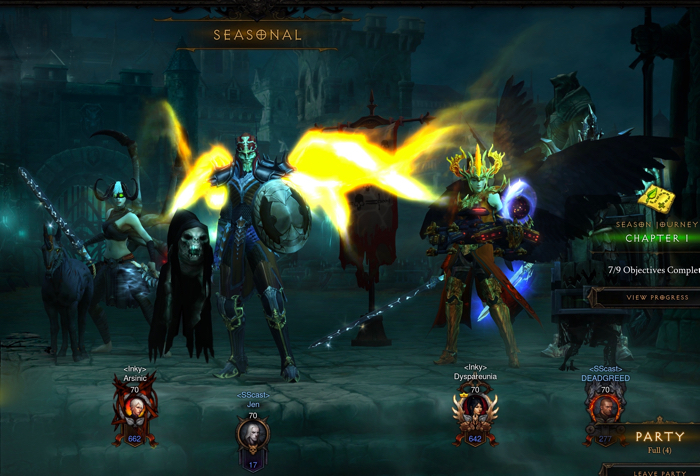 Here is the group I was with that helped me hit Level 70 and get some Paragon Points in Season 15.
I earned the Demolition Derby Achievement while standing by the door in a Nephalem Rift. Obviously, I wasn't actually contributing anything towards this Achievement.
The game doesn't care how you earn Achievements. It appears that some Achievements can be earned by everyone in a group, even the players that are slacking (like I was).
Demolition Derby: Get a destruction callout for breaking 50 objects.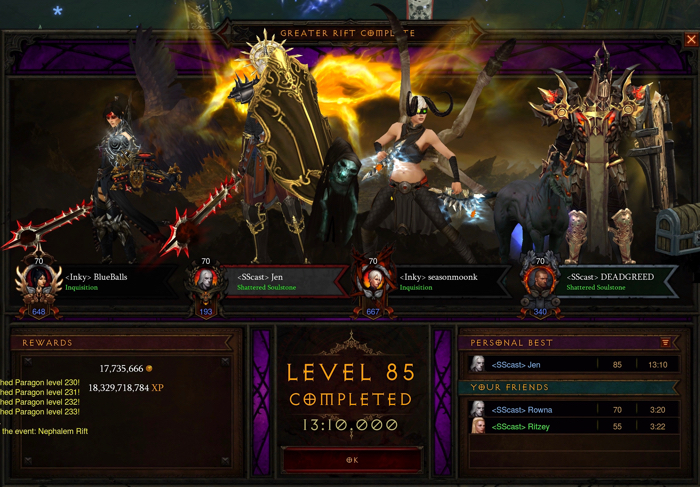 Here I am with the group that ran me through a Greater Rift Level 85. The group completed it at 13:10.000 (with little or no help from me, being the smallest in the group). It was fun!
My portrait says I have 193 Paragon Points, but the text at the side of the screen says I actually had 230 Paragon Points at that moment. I was getting Paragon Points so quickly that the game could not keep up!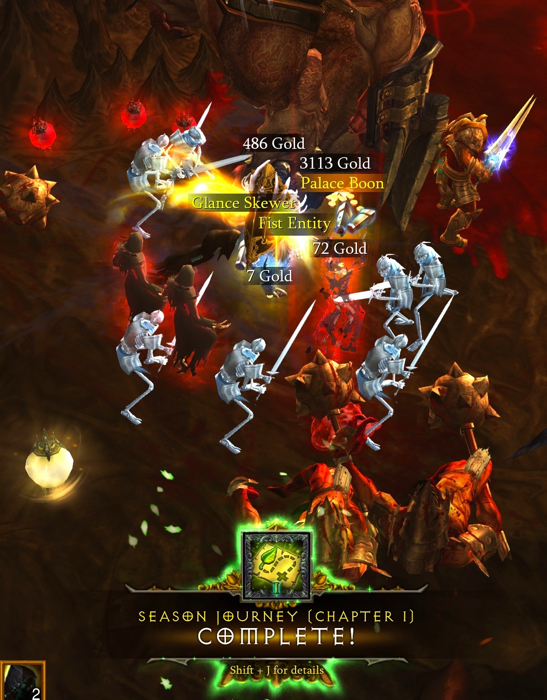 Season Journey (Chapter I) – Season 15 – COMPLETE!
Season Journey (Chapter II) COMPLETE!
Season Journey (Chapter III) COMPLETE!
I was playing solo when this Achievement Toast popped up on the screen. I cannot remember how much of Chapter III I had help with or how much I did on my own.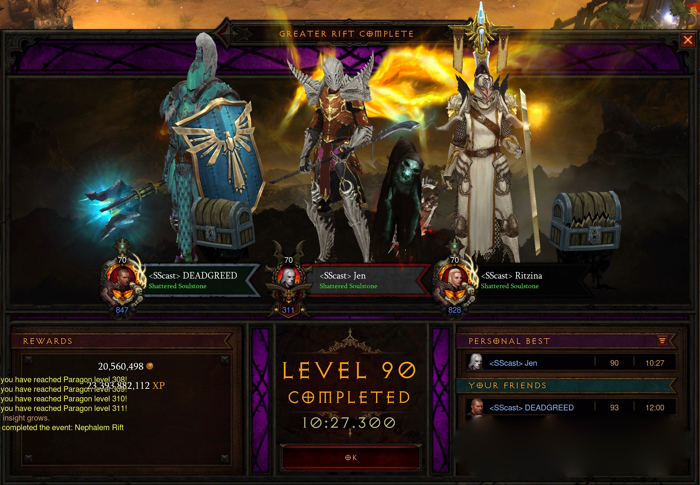 Completed Greater Rift 90 at 10.27.300 (with help)
Completed Greater Rift 80 at 7:56.233 (with help)
I wasn't able to stream very much during Season 15. Part of the reason was because I wanted to play with groups. The other reason was because I was went to Blizzcon 2018. Before BlizzCon, I needed to spend a lot of time on paid writing work. After BlizzCon, I got sick with "Con Crud".

Here's what I got done in the video above:
Discovered that I was not quite ready to do a Greater Rift 20 solo
Completed the Halt and Catch Fire Objective by Killing Urzael on Torment II
Completed the Just Look at You! Objective by purchasing Hellfire Ring and Hellfire Amulet plans from Squirt the Peddler and giving those plans to The Jeweler
Completed the …Is Another Man's Treasure Objective by using Kanai's Cube to upgrade a Rare item into a Legendary Item
Completed a Greater Rift 15 solo, but did not finish it before the time ran out.
Deadgreed, host of Shattered Soulstone, helped me go after Key Wardens. I ended up earning some Achievements thanks to his help.
Feed Me: Kill the Vile Executioner and The Foul Desecrator within 30 second of starting the Realm of Putridness encounter on Torment VI difficulty or higher.
Soulless: Kill the Soul of Evil at Level 70 on Torment VI difficulty or higher.

Together We Are: Kill the Savage Behemoth and The Undying One within 5 seconds of each other on Torment VI difficulty or higher.
Here's what I got done in the video above:
Finished a Greater Rift 15 right before the timer ran out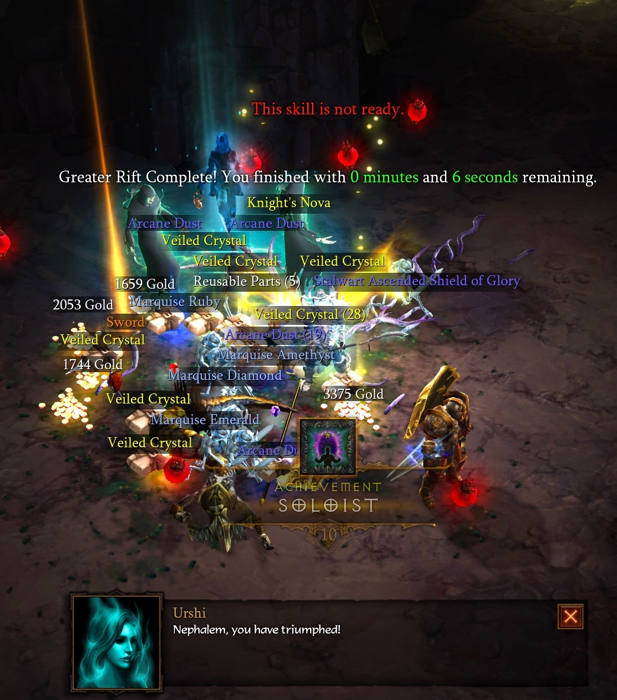 Greater Rift Level 15 completed at 14:53.816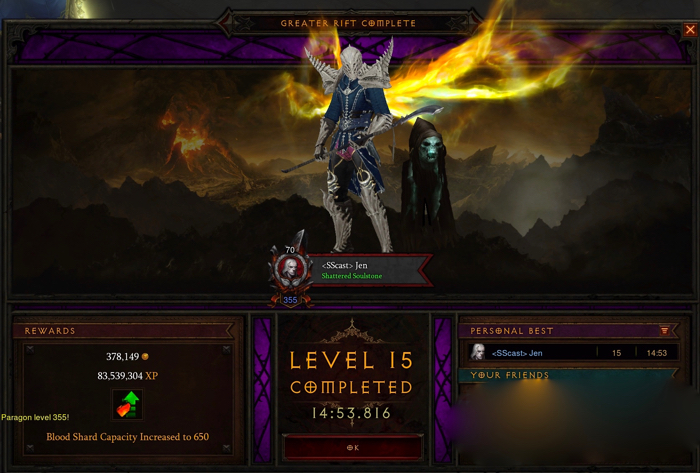 Completed a Greater Rift 16 – but not before the timer ran out
Attempted a Greater Rift 20, died when I got a little more than halfway through it, and decided to stop
After I got done streaming, I had a total of 335 Paragon Points in Season 15.
Here's some stuff I got done between when the video above ended and when I streamed again: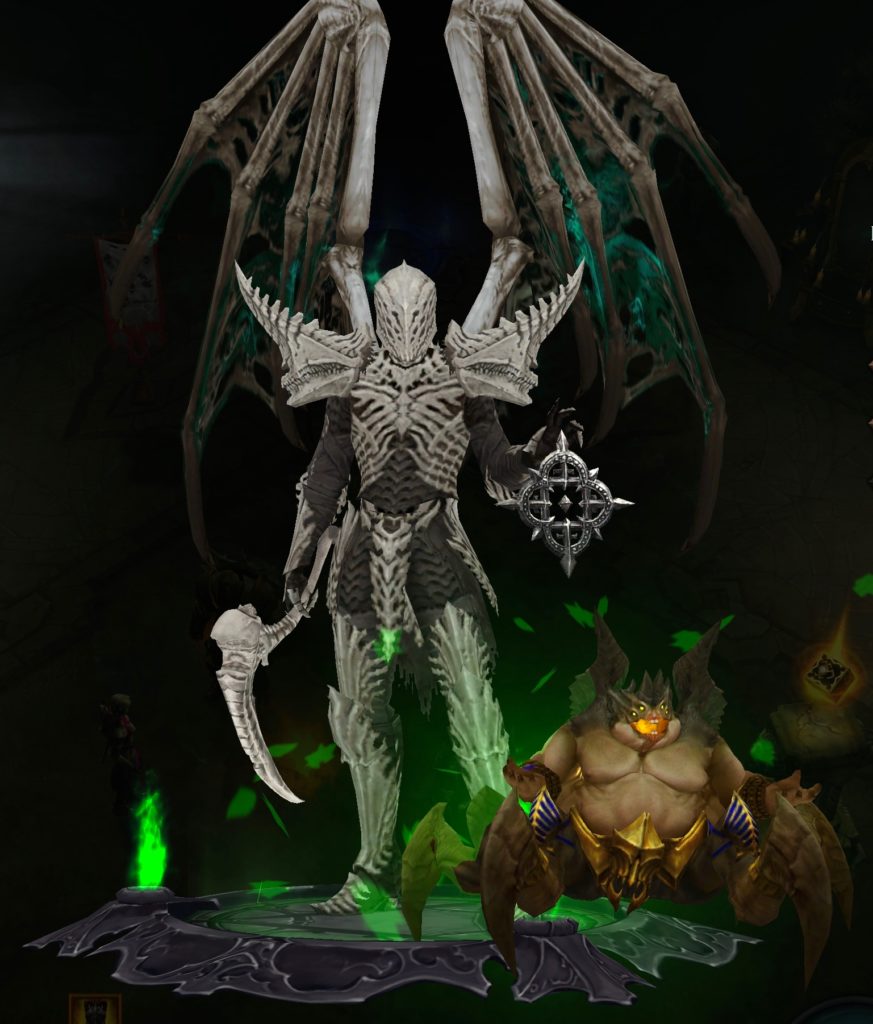 I managed to get the missing pieces of the Rathma's set.
I started using Az-Lo as my pet.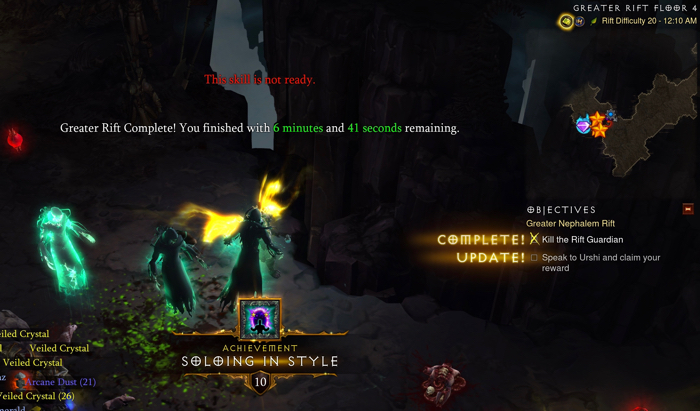 Completed a Greater Rift 20 Solo with 6 minutes and 41 seconds left.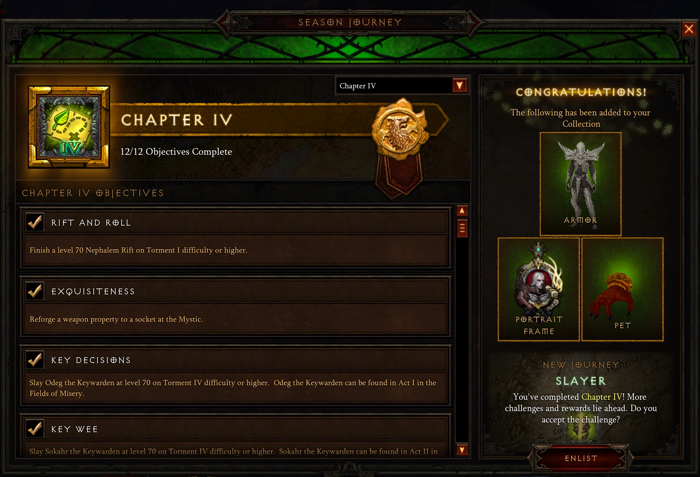 Completed Chapter IV of the Season Journey in Season 15
Got the Belphegor pet.
Completed a Greater Rift 21 at 9:42.150
Earned the Dead Is Dead Achievement
Dead Is Dead: Kill Malthael at level 70 on Torment V difficulty or higher.
I had time to do one more stream before Season 15 ended. It is the only stream I did after returning from BlizzCon 2018. I was exhausted, fighting "Con Crud", and the sound of my voice shows it.
Here's what I got done in the video above:
Continued working on Slayer
Completed Greater Rift Level 21 solo at 11:02.733
Completed Greater Level Rift 22 solo at 11:48.400
Ran a Nephalem Rift on Torment IV
Completed a Greater Rift Level 23 solo at 6:15:333
Overall, I feel like I did all I could in Season 15. Some of the time I could have been playing was instead used so I could go to, attend, and return home from BlizzCon 2018.  (This is not a complaint.) I got really sick shortly after BlizzCon, and it lasted longer than I would have liked.
One thing that I thought was really cool about the Boon of the Horadrim Season was that it gave me a lot more crafting materials than usual. This enabled me to put a bunch of stuff into Kanai's Cube. My goal is to fill it up.
Highlights from Season 15 (Boon of the Horadrim) is a post written by Jen Thorpe on Book of Jen and is not allowed to be copied to other sites.
If you enjoyed this blog post please consider supporting me on Ko-fi. Thank you!