The fourth town in the Kitchen Scramble game is called Chef Academy.  It includes foods from some of the previous towns, and also adds a couple of new ones.
This is the first town that does not include a "food" in it's name.  I think that is because your character is hoping to get a job as a teacher in Chef Academy.  There isn't a whole lot of story line in Kitchen Scramble, so this brief explanation will do.
I found Chef Academy to be enjoyable.  It includes some of the breakfast foods that I liked from Waffleton.  The impatient race car driver, that first appeared in Mozzaroma, is nowhere to be seen.  There is a new character who is somewhat impatient, though.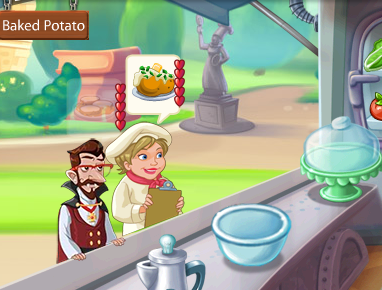 She's connected to the Chef Academy.  I can't remember if she is a professor, or what exactly her job is.  She goes from 5 hearts (happy) to 1 heart a little bit faster than the regular customers. But, she doesn't get angry at you if you fail to serve her fast enough.  Instead, she gives you are really disappointed look.
While you are in Chef Academy, you have to learn a new dish – Vegetable Soup.  It is somewhat difficult to make because it is time consuming.
Two of its three ingredients (potato, onion, and tomato) have to be chopped before you can drop them into the pot.   You can't chop more than one thing at a time. This increases the amount of time it takes to make Vegetable Soup.  Meanwhile, your customers are waiting.
I completed Chef Academy a while ago. Kitchen Scramble had an update after I completed Chef Academy. The font looks different now.
Here is the first part of Chef Academy (with all 3 stars in every level).
Here is the second half of Chef Academy (with all 3 stars in every level).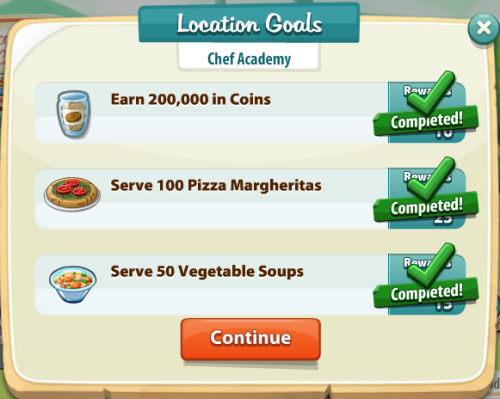 I also completed all 3 of the location goals for Chef Academy.
Kitchen Scramble: Chef Academy is a post written by Jen Thorpe on Book of Jen and is not allowed to be copied to other sites.
If you enjoyed this blog post please consider supporting me on Patreon or at PayPal.me. Thank you!