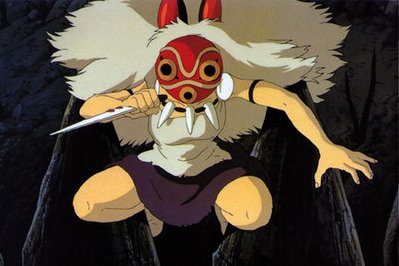 This was originally posted on Bitch Flicks as part of their theme week on Child and Teenage Girl Protagonists. They kindly gave me permission to crosspost it here.
Often, when an animated movie has the word "Princess" in the title, the storyline focuses on how she found, and married, her Prince. Princess Mononoke, however, doesn't stick to that old, predictable, scenario at all. Instead, viewers are presented with several very strong female characters and a Princess that has absolutely no desire to marry a Prince.
The English version of Princess Mononoke was released in 1997. It was written and directed by Hayao Miyazaki, who is known for his beautifully animated films that tell detailed, unexpected, stories. It has been said that his films present the world in "shades of gray", ethically speaking. Important characters can be good, and bad, at the same time. Who is the "bad guy"? That's up to you to decide.
One of the things I love about Princess Mononoke is that it includes so many very strong female characters. They aren't sitting on the sidelines, either. Much of the direction of the story is driven by women. This is the main reason why I think that Princess Mononoke is an excellent movie for female teens to watch. Here are animated examples of powerful women who are taking action (instead of waiting for their Prince to come).
Oddly enough, most of the reviews of this film that I have read focus on Ashitaka, a male character that is presented at the beginning of the movie. It is as though people are so used to seeing a male character as the focus that they do not know how to discuss a film that is very female driven.
Granted, Ashitaka (voiced by Billy Crudup) is an important character. Even so, it is a bit disconcerting when the IMDb blurb about this movie only mentions him, and almost none of the female characters who are equally, if not more, important to the story. Princess Mononoke (voiced by Claire Danes) is the title character, but is only mentioned towards the end of the blurb. This movie is so much more than yet another "save the princess" quest!
Princess Mononoke is a human who was abandoned by her parents when she was an infant. (Note: There are "spoilers" from this point forward). Moro, a giant, white, wolf (voiced by Gillian Anderson) was angered when these two humans "defiled the forest". In order to escape from her, Princess Mononoke's parents threw their baby at the giant wolf and ran away.
Moro chose to adopt this human infant. She named her San, and raised her just like her two male cubs. Over time, San became less human. She still looked like a human, of course, but gained the heightened sense of smell and fighting ability of the wolves. San considered herself to be a wolf, and developed a deep hatred for humans.
The first time San and Ashitaka meet, it is by accident. He is on a quest to find a cure for the curse that was placed upon him after a demon touched him. Ashitaka is the last Prince from his village, and will die if the curse is not removed. San is trying to help her mother to heal from a bullet wound in her chest. She is sucking out the poisoned blood from the wound, spitting it on the ground, and getting her face covered with blood in the process.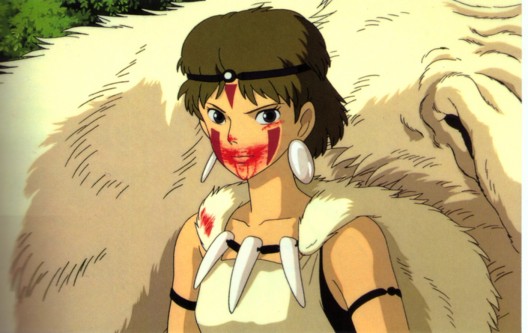 Ashitaka tries to talk to San, at first, to see if she could confirm where he thought he was at. San silently stares at him for a while, and then yells "Go away!" She leaves with her mother and "brothers".
San has good reason to hate the humans. Not too far away is Tatara, which is run by Lady Eboshi (voiced by Minnie Driver). It is a mining colony. Lady Eboshi is intentionally cutting down the forest, and harvesting iron ore, in order to make a fortune. San, who lives in and loves the forest, wants nothing more than to kill Lady Eboshi.
At the same time, Lady Eboshi is doing some wonderful things. She buys the contracts of female prostitutes and hires them to work in her iron forge. These women are bold, strong, and unafraid. There is a scene where many are openly flirting with Ashitaka. They call him handsome. None of the men dare to harass these women (who are quick to "trash talk" right back at the men).
Toki (voiced by Jada Pinkett Smith) is one of the women that Lady Eboshi hired. She is basically the "woman in charge" while Lady Eboshi is away.  I found it interesting that Lady Eboshi, who could have put anyone in charge, chose Toki as her "second in command."  It is clear that Toki is smart enough, and strong enough, for the task.
Lady Eboshi has also set up a very comfortable building for lepers to live in. She provides health care, feeds them, and employs them. They are designing rifles that are light enough for women to comfortably use. She hopes to destroy the forest so the animals will go back to being "small and stupid". The large, intelligent ones, who live there now pose a threat to her town (and all humans).
It is worth noting that Lady Eboshi runs her town by herself. She's not married to the "mayor", or the daughter of a king or other powerful man. She, herself, is powerful enough to run the town and to do it her way.
San launches an attack while Ashitaka is in town. She is much faster than than the male guards in the town, and easily evades them. Someone warns Lady Eboshi that San is there and intending to kill her. Instead of hiding, Lady Eboshi stands in the middle of the street, and calls a challenge to San. At her side are two women, armed with guns. These women lost their husbands to the wolves in San's tribe, and are looking for revenge.
Soon, San and Lady Eboshi get into a fight. San uses a knife, and Lady Eboshi has a sword. Ashitaka doesn't want them to fight, so he gets in the middle and knocks out both of the women. He calls for someone to take Lady Eboshi from him, and then, basically kidnaps San. He fell in love with her the first time he saw her.
When San wakes, she immediately tries to kill Ashitaka. She still wants nothing to do with him. This is yet another example of a female character who, when presented with the possibility of starting a relationship with a Prince, chooses not to. San has a life that is quite full without him. She doesn't need a "boyfriend". San holds a knife to Ashitaka's throat. He tells her "You're beautiful". She recoils in horror.
Long story short, there is a point where San saves Ashitaka's life. Moro allows him to stay with them, and heal, and then kicks him out when he is strong enough. The next morning, Ashitaka is escorted out of the forest by one of San's "brothers". He gives the wolf his necklace, and asks that the wolf cub bring it to San.
The cub arrives home, necklace in mouth, just as San is about to leave for battle. She learns the necklace is from Ashitaka. San stares at it, says "pretty", puts it on, and heads off to join the fight.
Later, Moro asks Ashitaka to "save the girl you love". Without giving too much of the story away, San has jumped into battle to be the eyes of a giant boar who is blind. He gets tricked, and ends up possessed by demons (who curse San in the same way that Ashitaka was cursed.) Ashitaka manages to save her life, but cannot remove the curse.
These two play an important role in.. shall we say, saving the forest from complete destruction. It is a dramatic, powerful, moment, that results in knocking both of them out. They awake, later, lying in the forest together.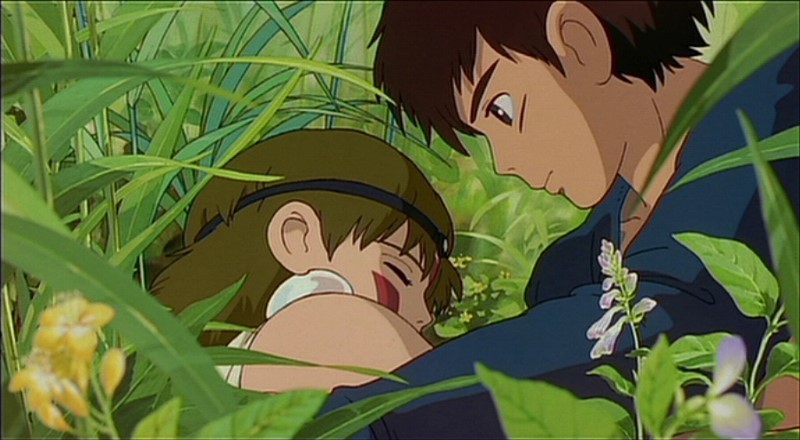 This could have turned into the "happily ever after" moment that many stories about Princesses do. Instead, San and Ashitaka have become close friends. They aren't getting married, and they aren't going to live together. Each continues his or her own life, with a new connection to a good friend.
There is so much more going on in Princess Mononoke that I have left out. The story is complex, and interwoven. I will note some of the other strong female characters, though.
The most powerful person in Ashitaka's town is a Wise Woman.  His little sister tried to defend her friend from a demon, by pulling a knife and blocking the friend with her own body.  She put herself in peril in an effort to save those she cared about, likely realizing that the demon could kill her.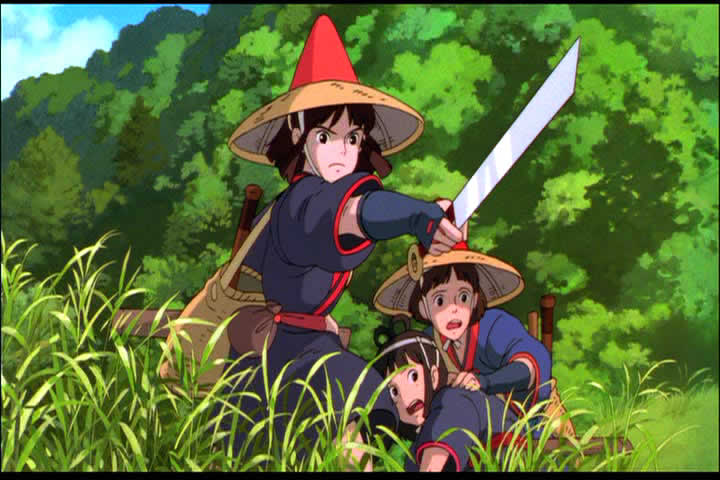 I highly recommend this movie as an alternative to the stereotypical Disney Princess movies. It is rated PG-13, likely because some of the imagery could be too disturbing for younger viewers.
Princess Mononoke has No Desire to Marry a Prince is a post written by Jen Thorpe on Book of Jen and is not allowed to be copied to other sites.
If you enjoyed this blog post please consider supporting me on Ko-fi. Thank you!