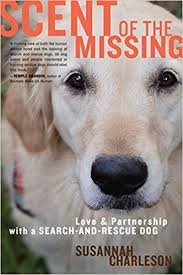 The full title of this book is: Scent of the Missing: Love & Partnership with a Search-And-Rescue Dog. It is a non-fiction book that gives readers a detailed look into what it is like to be a person who works with a dog for the purpose of Search and Rescue. I've read this book twice now, and highly recommend it.
One glance at the cover will attract any dog lover. Who could resist the lovely Golden Retriever staring back at you? This book is a memoir, of sorts, where Susannah Charleson tells the story of how she ended up working with a Search and Rescue dog – with the perfect name of "Puzzle".
At the start of the book, the reader finds her working with a team of people who have Search and Rescue dogs. Her job, at the time, was to follow a human-dog team into the field and take important notes such as GPS locations of significant finds. She also needed to be on the lookout for any danger that was in the area. It isn't an easy job.
One of the interesting things I learned from this book is that each Search and Rescue dog does his or her job in a slightly different way. All of them, of course, are trained to locate lost people (or their remains) and each goes through a significant amount of training.
The differences are in how the dog alerts his or her handler about what the dog has found. Some are subtle, and will make a small sound, or point towards the find. Others, like Puzzle, are really obvious. Puzzle uses her entire body to alert her human when she makes a find. There really is a strong partnership between the dog and the human in a Search and Rescue team. They must know each other, and be able to "read" each other, well.
When Susannah Charleson first got Puzzle, the feisty little Golden wasn't all that interested in her. Over time, the two bonded. There are plenty of stories in the book about how Puzzle the puppy interacted with the other dogs in the house, with the other Search and Rescue dogs, and with the people who worked with those dogs. Puzzle definitely had some favorites! I found myself giggling at the antics of such a smart puppy. It was delightful to "watch" Puzzle grow and mature into an excellent Search and Rescue dog.
Another really interesting thing about this book is the viewpoint it gives readers. It is as though you "go with" on the searches that are described in the book. Readers get to see the experience through Susannah Charleson's eyes, "in real time" (for lack of a better phrase). Will the search be successful? Go with and find out!
Something that surprised me was the difference in how the humans and the dogs perceived each search. The dogs have been taught, from the time they were puppies, what "Find" means (as well as a few other commands). They start learning it as a game, and this prepares the young pup for additional training. Lots and lots of treats/praise/attention is given to a dog after a successful "Find". They grow to learn that Search and Rescue is important, and that it is more than an entertaining way to spend an afternoon.
The same positive reinforcement is given if a dog is able to tell his or her human partner that a particular area is clear of human scent. There is nothing to find. Either way, the dog knows that he or she did a good job at the end of the search. The dogs are much better at letting the events of the day "go" than the humans are. They know have done their jobs, and that they have done them well. Now, it's time to relax and play!
The humans, of course, cannot just "let things go". People naturally worry when a search does not end with the successful location of the person they were hoping to find. This book includes instances where a Search and Rescue team was sent to find missing children and teens that may have run away from home. They get asked to locate elderly people who have Alzheimer's (or other communicational difficulties) and who have wandered away from a nursing home. To me, it would be impossible to just "shut off" one's mind and stop worrying about what may have happened to the person who wasn't found.
There is one exception to this general difference between the dogs and the humans. Susannah and Puzzle were among the Search and Rescue teams who were sent to locate human remains after the Space Shuttle Columbia exploded. It resulted in an extremely intense search, over a vast area, in which scent had scattered itself widely. Both the humans and the dogs ended up overtaxed, stressed, and feeling what might be described as "compassion fatigue" after a few days working that type of search.
In addition to being part of a Search and Rescue team, Susannah Charleson is also a pilot. Those of you who are aviation buffs will enjoy her descriptions of some of the flights she has done. She puts the reader in the cockpit with her, in the air, and underneath an endless, dark and starry, sky.
If I am ever lost (and, with my complete lack of direction sense, getting lost is inevitable) I hope that a Search and Rescue dog would be able to locate me. Reading this book has made me respect the amount of work that goes into every Search and Rescue team of human and dog.
This book review of Scent of the Missing – by Susannah Charleson is a post written by Jen Thorpe on Book of Jen and is not allowed to be copied to other sites.
If you enjoyed this blog post please consider supporting me on Patreon or at PayPal.me. Thank you!