Seekers Notes is a game where the player becomes the Seeker and finds hidden objects. The Three Challenges Collection is one players can work on after completing the Call for Help Collection.
The screenshots in this blog post were taken in December of 2020.
After completing the Call for Help Collection, Ben and the Seeker heard Antoine scream.
Antoine: No! I didn't mean to! Oh, it's you, Seeker. What a nightmare! I was guarding the house when I heard a crunching sound – someone was chewing on my fruit icicles. I grabbed my snow cannon right away. But where did it go?
I found the snow cannon!
Antoine: The colonel lent me his cannon for defense. I fired it, but I missed because it's the holiday spirits who've been munching on the Sweet House all this time! What have I done!
Antoine: The holiday spirits are angry at me. I could see it in their eyes, shining like sugar crystals! They said if the Sweet House is more important to me than the holiday, I should live forever in it as a gingerbread man!
The Seeker responds: "I can't believe it!"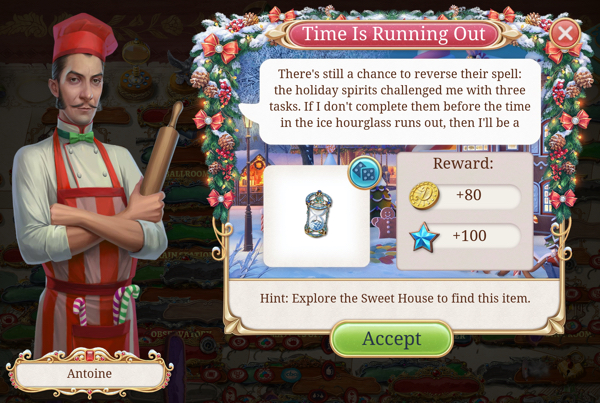 Antoine: There's still a chance to reverse their spell: the holiday spirits challenged me with three tasks. If I don't complete them before the time in the ice hourglass runs out, then I'll be a gingerbread man!
You completed the stage challenge and get Gingerbread Cupcakes as a reward!
I have now completed three of the five parts of the Gingerbread Adventure that involve placating holiday creatures.
I found the ice hourglass.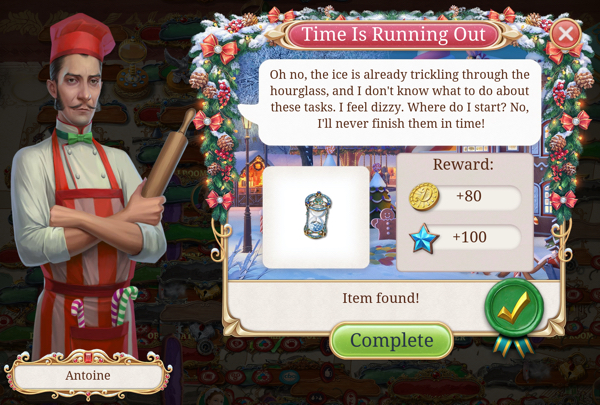 Antoine: Oh no, the ice is already trickling through the hourglass, and I don't know what to do about these tasks. I feel dizzy. Where do I start? No, I'll never finish them in time!
Peter: Oh no, Monsieur Antoine, don't worry. We won't let you turn into a gingerbread man! If we complete the tasks together, we'll finish in time. Let us help you!
The Seeker says: "I'll help too!"
Antoine: Thank you, kids, and I'm sorry I was so hard on you. The first task is to prepare a festive table. This reminds me of my grandmother, who used to throw feasts with roasted turkey, jelly, and pudding!
I hit Level 67 in Seekers Notes!
Your rank in the Sweet House location is Sleuth! Increase your rank and get more rewards!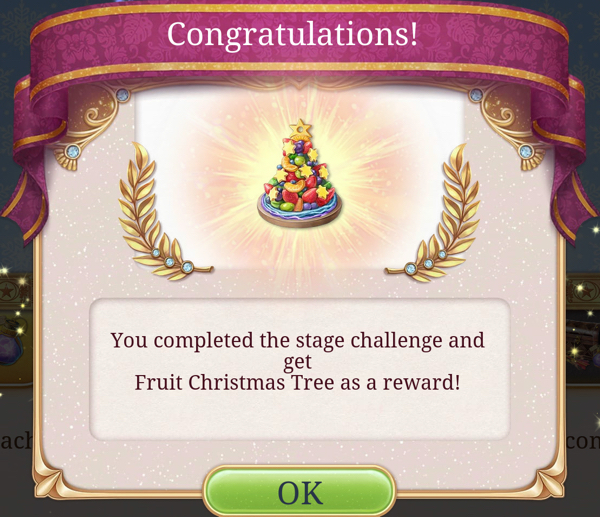 You completed the stage challenge and get Fruit Christmas Tree as a reward!
I reached the Sleuth Rank in the Sweet House.
I found the feast!
Antoine: How beautiful! Preparing a festive table with this gang of little cooks wasn't a problem. The kids made excellent pudding and jelly, and my grandmother would've been so proud of our turkey.
Antoine: But that's not all! The second task is to decorate a Christmas tree, and it has to be a real one. Right now, I only have a gingerbread tree with sugar frosting.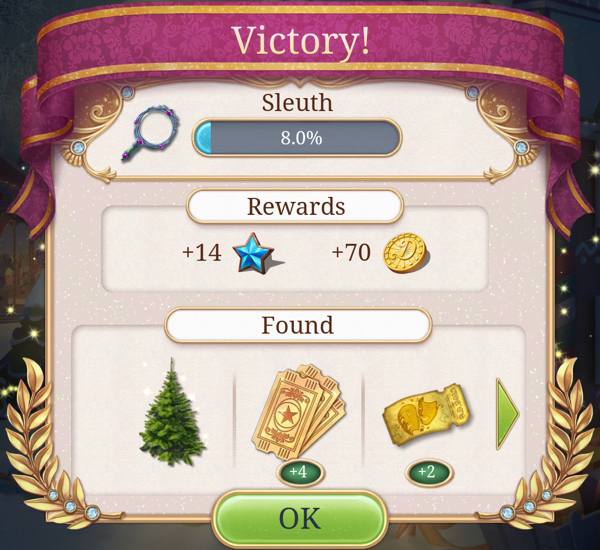 I found a real tree!
Antoine: Miracles do happen! Seeker, where did you find this beautiful, thick, and bristly tree? Hurry and place it by the window.
Antoine: All my Christmas tree ornaments are at home, but that's no reason to despair. Hurry, let's start making chocolate balls and ornaments!
I found the edible ornaments!
Antoine: The kids are covered in frosting and chocolate, but the Christmas tree ornaments turned out really well. And they're much more useful, I'd say, because chocolate ornaments aren't just a feast for the eyes, but one for the stomach, too!
Amy: Monsieur Antoine, Seeker, we totally forgot about the Christmas tree's star on top! And that's the most important thing. Without it, the spirits won't consider the task complete. We have lots of beautiful candy wrappers. We can make a star out of them.
I obtained all of the main items in the Three Challenges Collection. But, I didn't have enough of the items that can only be obtained by placating holiday creatures.
To get the last one I needed, I had to complete several locations. Doing so was the only way to obtain Candy Canes, which is the currency players must use to play the Sweet House location.
After that, I had to placate all three holiday creatures, over and over, until I got one more rocking horse.

The items combine to make the Candy Wrapper Star.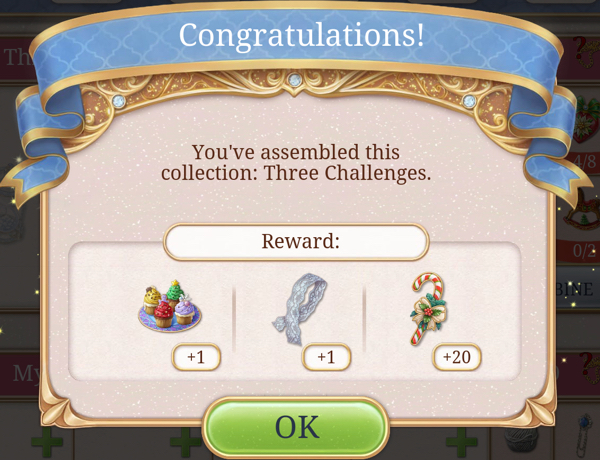 You've assembled this collection: Three Challenges.
Amy: Hooray! What an interesting star we've made! It's completely unique. The candy wrappers are so shiny, and they still smell like chocolate!
Antoine: Thank you, kids, from the bottom of my heart. However, I don't think we'll be able to complete the third task, because it requires receiving at least five cards with sincere greetings from friends.
The Seeker asks: "What makes you think that?"
Antione: It gets harder for people to be sincere as they get older. The holidays turn into endless to-do lists, people keep score with gifts, and greetings become a formality. And we're running out of time…
You completed a stage challenge and get Festive Cake Roll as a reward!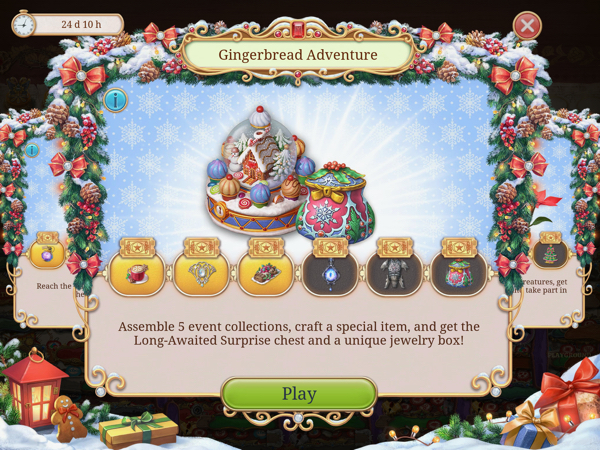 I have now completed three out of the five event collections required.
Seekers Notes: Three Challenges Collection is a post written by Jen Thorpe on Book of Jen and is not allowed to be copied to other sites.
If you enjoyed this blog post please consider supporting me on Ko-fi. Thank you!