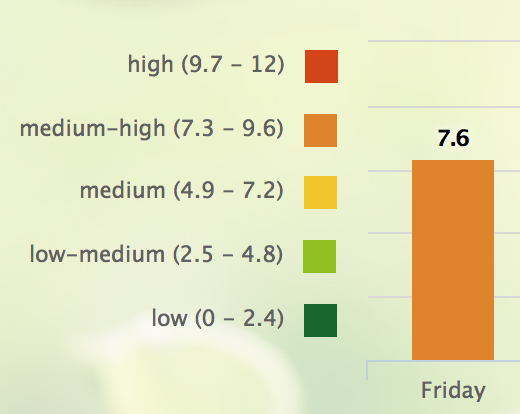 Today, the pollen count is 7.6. I'm hoping this is a sign that Spring Pollen Season is coming to an end soon. I need the pollen to go below 6 for about two weeks – and then I will feel better.
I'm super sick today from allergen overload. I'm struggling to eat. I'm struggling to keep food in me.
In the past, there have been times when pollen season makes me lose weight too quickly. I'm borderline anemic, and lack of food can quickly flip that into full blown anemia. I'm already exhausted – and I really don't want to fight my way through the special kind of exhaustion anemia brings.
I have found that taking iron pills only helps if I can keep it in me long enough for my body to digest it. That's not gonna happen today.
I'm gonna watch the Cubs game today and (hopefully) distract myself from the sinus pain and digestive issues I'm dealing with.
Spring Pollen Season – Day Sixty-Five is a post written by Jen Thorpe on Book of Jen and is not allowed to be copied to other sites.
If you enjoyed this blog post please consider supporting me on Ko-fi. Thank you!