There are three parts to an event in Animal Crossing: Pocket Camp. The first one involves planting flowers and capturing rare creatures. The second one is a Fishing Tourney. The third is a scavenger hunt.
Fishing Tourney Pirate Life started on July 11, 2020, and ended on July 19, 2020. It began shortly after Gulliver's Port Resort ended. The screenshots in this blog post were taken in July of 2020.
The game gives the player an announcement when a new Fishing Tourney begins. The theme connects to the previous event. Sometimes, the theme matches well. In this case, my campsite had been turned into a Port Resort. This Fishing Tourney gives players the opportunity to obtain pirate-related loot. It works!
Chip: Oh boy, it's finally here… "Fishing Tourney (Pirates)"!
All of the Fishing Tourneys work the same way. The player needs to go fishing in the place the Fishing Tourney is held. (There is another location player can fish from – but fish caught there won't count.) There is a timer on how long a player can fish – meaning that the Tourney fish will disappear after a short span of time. The player then hands over the Tourney Fish they caught to Chip who will measure them. Prizes can be earned.
I caught two Bering wolffish!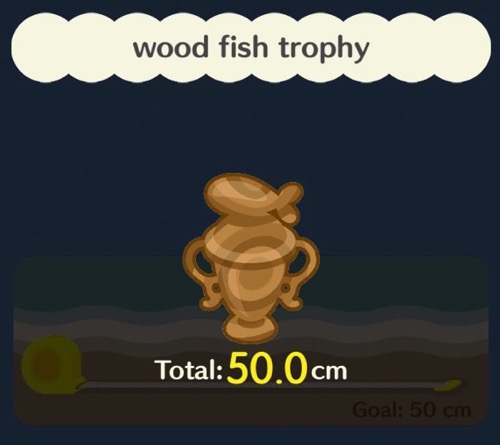 I earned a wood fish trophy.
Chip: Now, let's see here. What have I got for ya…
Players needed to collect a number of mariner's anchors in order to complete a series of quests. There are prizes that can be obtained by those who gather enough mariner's anchors before the event ends.
Here is what the fish in the Fishing Tourney (Pirates Life) event looked like:
smalltooth sand tiger
great barracuda
two great barracuda
I used a Fishing Tourney net. Players get one for free at the start of a Fishing Tourney. I caught a Bering wolffish, some great baracuda and some smalltooth sand tigers. I'm not sure if the number I caught includes only what was in the net, or if it includes the fish I pulled out of water before deploying the net.
Bering wolffish
two smalltooth sand tigers
Here are the prizes that players can earn while doing this Fishing Tourney:
pirate tee and vest
wooden box
eye patch
black bandana
I now had the right items to complete one of the classes that connected to this Fishing Tourney.
The first Pirate Life class required the wooden box, pirate tee and vest, and black bandanna.
The required items go into the spots that have a transparent rectangle on them.
Success!
I have been assigned the rank of Amateur Rank 9!
Here are more of the prizes that come from the Pirate's Life Fishing Tourney:
barrel chair
barrel table
pirates' treasure map
pile of Bells
For those who have never played an Animal Crossing game – Bells are the in-game currency. There are many ways to earn Bells in the game. This particular pile of Bells is only cosmetic, and cannot be used to buy something with.
I now had all the items that are necessary to complete the second Pirate Life class.
Success!
pirates' bounty
pirate skull banner
stack of barrels
I now had everything necessary to complete the Pirate Life 3 class.
My Pocket Camp character is thinking about where to place the items.
This is what the Pirates Life 3 class looks like after everything has been properly placed.
Success!
I earned three medals in each of the Pirate Life classes.
The Fishing Tourney (Pirate Life) shared some quest goals that carried over from the Port Resort event. As such, I was able to obtain some rewards that were part of each event just by completing quests.
white resort bench
Here is the white bench in the middle of my Port Resort.
Fishing Trophies
I already posted the wooden fishing trophy in this blog post. Somehow, I failed to get a screenshot of the next one, the bronze fishing trophy.
silver fish trophy
After the Fishing Tourney Pirate Life ended, I got this announcement of my results. I earned a gold fish trophy.
It was time to take a rest!
Rod's adventure cookie
One of the rewards for completing all of the quest goals was a Rod's adventure cookie. Players earn it. Usually, the special cookies cost Leaf Tickets (a type of currency that players can earn – or purchase with real money).
To open a fortune cookie, a player's character must eat it. There is always a short fortune inside, just like in real world fortune cookies. There will be a prize inside (that usually looks way too big to fit into a cookie).
I got a pirate captain hat!
A pirate's life for me!
The Port Resort part of my campground has been taken over by the Pirate Life items.
Animal Crossing: Pocket Camp – Fishing Tourney Pirate Life is a post written by Jen Thorpe on Book of Jen and is not allowed to be copied to other sites.
If you enjoyed this blog post please consider supporting me on Ko-fi. Thank you!