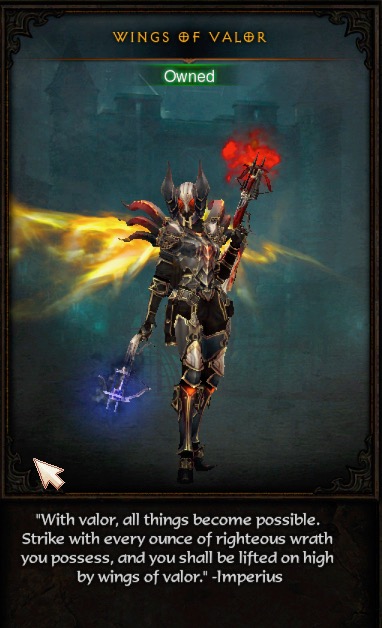 Wings of Valor were given to all Diablo III players who preordered the Diablo III Reaper of Souls Collector's Edition. The Wings of Valor could not be claimed after March 31, 2014.
The flavor text on the Wings of Valor says: "With valor, all things become possible. Strike with every ounce of righteous wrath you possess, and you shall be lifted on high by wings of valor." – Imperius.
Imperius is the Archangel of Valor. He is the (very grumpy) leader of the Angeris Council. I cannot think of a lore reason to explain why Imperius would give a human wings that resembled his own.
The in-game mail for the Wings of Valor arrived the same time as the in-game mail for a pet named Bones and an item that provided the player with death-flavored transmogs.
The ROS Preorder : Wings of Valor email said: Our deepest thanks to you for preordering Reaper of Souls. Please accept these valorous wings on a token of our appreciation. If you see Imperius, don't tell him where you got the wings!
Wings of Valor – Unleashes a display of heavenly power.
The in-game email has the same flavor text as shown in the box at the top of this blog post.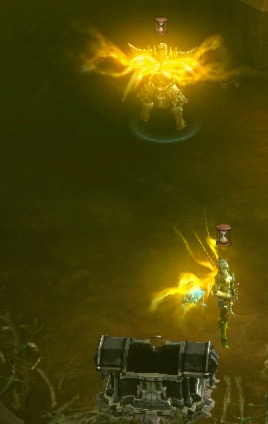 Here is what the Wings of Valor looked like in game in 2014. The screenshot above shows my Demon Hunter, and my husband's Barbarian, wearing the shiny new Wings of Valor.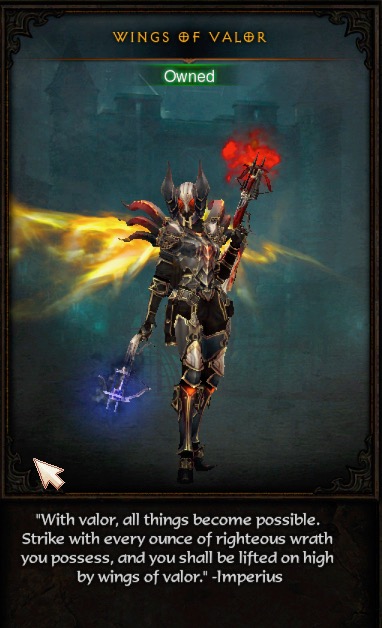 This is what the Wings of Valor look like today, as viewed through the Mystic's Wardrobe. It is where a player can go to equip/unequip whatever wings they own, or to select a pet from their collection.
Diablo III: Wings of Valor is a post written by Jen Thorpe on Book of Jen and is not allowed to be copied to other sites. If you enjoyed this blog post please consider supporting me on Ko-fi. Thank you!