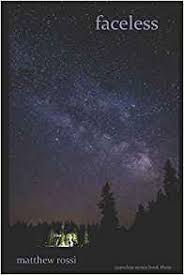 Faceless is the third book in the Nameless series. You should read Nameless and Heartless before starting this book.
As in the previous books, Faceless revolves around a magical family of cousins (and their significant others).  All of them are young people, and most are starting to put together a framework of how they think they want the rest of their lives to work out.
To me, one of the things that this book is about is that the choices people make – out of love, or fear, or desperation – have consequences. What happens as a result can affect not only the person who made a choice, but also the lives of other people. It's a important piece of wisdom that some people do not learn until after they have destroyed something or someone they love.
The book begins with Thomas and Thea using their magical abilities to defend Maddie Chen, a Chinese-American woman whom some of the characters know because they all used to work in the same bookstore. Maddie is, in the words of Thomas, "super pregnant."
Maddie's ex-boyfriend, Jason Cain, is trying to attack her using magic. She is confused about why he would do this, and has absolutely no way to comprehend all the magic stuff that is happening. Interestingly, Bishop, who once felt the same way Maddie does, is there to help her cope.
Thomas and Thea (and some of their cousins) use emotion to fuel the magic they use. They reach back into memories of pleasure or pain. Jason's magic is different. At the end of the battle, Thea and Thomas find that he has been using a book of spells. Jason does not survive the battle, but isn't quite out of the story just yet.
Medea is one of my favorite new characters in this book. She is extremely intelligent, a skilled fighter, and a person who has a tendency to think before she acts. Medea is a lesbian who chose to marry a man out of companionship, in part because it would be easier for her family to handle. This decision affects the man that everyone assumed she would marry.
She belongs to the same family as Jason, and uses magic the same way he was trying to. The difference is Medea had more skill, practice, and knowledge about how that magic works than he did. After Jason disappears, Medea sets out to find him.
Medea mistakes Thomas for his mother, Artemis, who is her sister. She had lost contact with Artemis, and had no idea that her sister had a child. This is where Medea and Thomas begin to try and get to know one another, hoping that they can find a way to trust each other. That's not going be easy, because their first introduction resulted in a battle.
There are, of course, other things going on. Bishop and Joey are beginning to wonder where their relationship is going. Joey worries that all the magic stuff is going to scare Bishop away, and Bishop, who is bisexual, thinks Joey might leave him someday because of that.
Seri and her girlfriend are still in a relationship that seems to be going well. But, where is it headed? How serious are they? Morgan thinks he is in love with his girlfriend, but isn't sure because of his lack of experience. He's been waiting for the perfect time to tell her his feelings.
Bry, a transgender girl who is the most interesting and delightful character in the entire series, is now a teenager. She's not at all interested in dating yet, and thinks she might never be. I love that Bry uses her magic to do things like make characters from a video game appear and help with simple tasks.
Thomas and Thea, who have now been married for a little over a year, are considering their future. They have a conversation about whether or not they might want to have children someday. The fascinating thing about this question is that Thea and Thomas have unique abilities that mean they have more options regarding pregnancy than anyone else does.
There is, of course, a series of battles that lead to all kinds of discoveries. Thomas and Thea learn a little about how Medea and her family have been using magic. Medea learns it actually doesn't work the way she was led to believe. It's more dangerous than she knew.
The big battle happens because the man who everyone assumed would marry Medea, tries to attack Thea because he believes that she is someone else. He thinks she is a woman whom he fell in love a long time ago. By the time he realizes what he has done, it's too late for him to try and set things right.
Faceless has a very exciting and satisfying ending, and I enjoyed this book as much as the first two books in the series. I highly recommend these books for people who enjoy magic, epic battles, and well developed characters that feel very real.
Faceless – by Matthew Rossi is a post written by Jen Thorpe on Book of Jen and is not allowed to be copied to other sites.
If you enjoyed this blog post please consider supporting me on Ko-fi. Thank you!