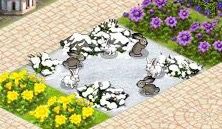 Those cute little balls of fur are "Snow Bunnies". When you see them in-game, they bounce. There are six bunnies: 3 white and 3 brown. The brown one at the bottom hops three steps towards the center, then stops, then hops three steps back to where he started. Some of the rest stand up on their back legs and sniff the air, before sitting back down.
There is a quest in Gardens of Time that involves purchasing the Snow Bunnies and putting them into your garden. It costs 17 gold to buy them. I waited until I had gathered up enough gold (from leveling and from Gold Tournaments) so I could buy them. They are really cute!
This guy is officially called a "Paris Painter". To me, he looks like a tribute to Bob Ross. There he stands, painting happy little trees, and happy little clouds.
The "Paris Painter" is a collection item. To get him, you must play the "Parisian Painter" scenes until you randomly gather up five collection items: palette, drawing charcoal, sketchbook, easel, and paint knife.
In order to play the scenes, you must have enough energy and a crystal. The crystals cannot be purchased (like gold can). They just randomly appear as you play the game (and this seems to frustrate a lot of players). You use crystals to unlock a set of scenes. Then, you do a quest to unlock one scene within the group. There may be a quest to earn a certain number of stars within a particular scene. Finish that, and you might earn a building, (which you must build, and level, to continue the quest chain).
What I'm trying to say is that there isn't a simple, straightforward path involved in getting a miniature Bob Ross to put into your garden. However, it was worth it for me. Happy little trees….. happy little clouds….