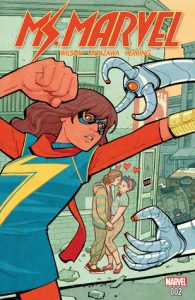 Ms. Marvel #2 – Super Famous – is the second part of a three part story.  It was published in February of 2016.  You should read #1 before reading #2.
In this issue, Ms. Marvel returns to the office of the Hope Yards Development and Relocation Association for the purpose of doing some more investigating. Everything looks normal, until she finds some strange goo in a mini fridge.  That goo turns out to be a key part of the story.
In addition, Kamala Kahn is still struggling with social problems. She's remained friends with Bruno (but absolutely does not want to meet his new girlfriend).  Her mother wants her to stop being Ms. Marvel now that a group is protesting the super hero.  Her brother needs her to be a chaperone so he can follow muslim rules while speaking to his (potential) girlfriend.  There's a lot going on!
One of the things I liked about Ms. Marvel #2 is that it introduces some muslim words and customs that I was unfamiliar with.  I also liked that the story line moved really fast and left me wanting to find out how things get resolved in #3.   There are hints in #2 that indicate that the development company is part of something really evil.
This book review of Ms. Marvel #2 – Super Famous (Part 2) is a post written by Jen Thorpe on Book of Jen and is not allowed to be copied to other sites.
If you enjoyed this blog post please consider supporting me on Patreon or at PayPal.me. Thank you!