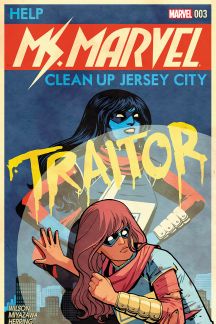 Ms. Marvel #3- Super Famous is the third part of a three part story.  You should go read part 1 and part 2 before reading this one.  This issue was published in March of 2016.
It's hard to write about the third part of any trilogy without giving away too much.  I will say that the story line comes to a nice conclusion while leaving some things open just enough to perhaps be developed in future issues.
In this issue, Ms. Marvel gets to beat up some bad guys by using her superpowers.  One important part of this story is that Ms. Marvel ends up working with her best friend Bruno's new girlfriend, Mike, on something very important.  Mike, like everyone else in Jersey City, knows who Ms. Marvel is – but she doesn't have any idea that Ms. Marvel is Kamala Khan.  This leads to some awkward conversations.
The best part is that these two teenage girls use science to solve a problem – and then choose a very feminine tool to distribute the …solution.  Along the way, Kamala Khan learns that being super famous isn't always a good thing, especially when someone takes your image without your permission and uses it to make people hate you.  I think this is something that other teenage girls, who produce content on the internet, can relate to.
This book review of Ms. Marvel #3 – Super Famous (Part 3) is a post written by Jen Thorpe on Book of Jen and is not allowed to be copied to other sites.
If you enjoyed this blog post please consider supporting me on Patreon or at PayPal.me. Thank you!