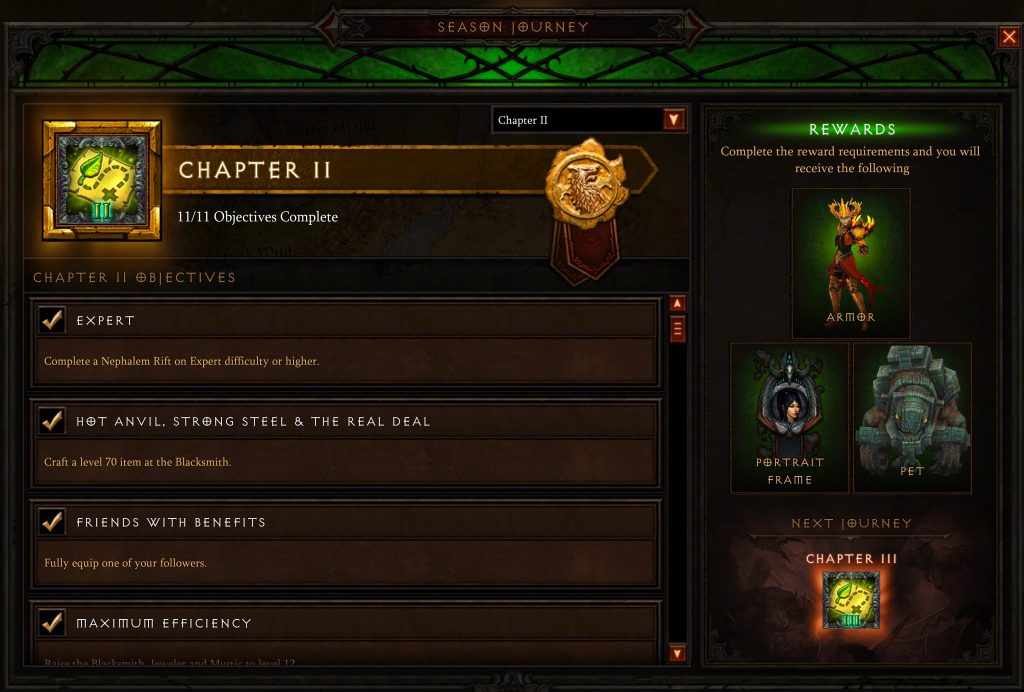 Chapter II of the Season Journey for Season 9 didn't take me as long as I expected. But, I was still way behind where I thought I'd be. As I mentioned in the blog I put together about Chapter I, my game time was split between Season 9 and the new Darkening of Tristram event.
This is not a complaint.  It's nice to have so much to do in Diablo III – and to be very interested in doing all of it!
Friends With Benefits: Fully equip of your followers.
Kanai's Excellent Adventure: Find Kanai's Cube. Kanai's Cube can be found in Act III in The Ruins of Sescheron. Kanai's Cube can be used for very powerful things such as extracting Legendary Powers and upgrading Rare items into Legendary items.
Change Clothes: Transmogrify an item at the Mystic.
Expert: Complete a Nephalem Rift on Expert difficulty or higher.
Penchant for Enchants: Replace a property on an item with Enchanting at the Mystic. Enchanting is very useful for replacing an unwanted primary affix on a near-perfect item.
Maximum Efficiency: Raise the Blacksmith, Jeweler, and Mystic to level 12.
Soul to Squeeze: Kill Zoltun Kulle at level 60 or higher on hard difficulty or higher.
Crash: Kill Maghda at level 60 or higher on Hard difficulty or higher.
Above & Beyond: Reach level 70.
The Little Things That Count: Craft a level 70 item at the Jeweler.
Hot Anvil, Strong Steel & The Real Deal: Craft a level 70 item at the Blacksmith.
SEASON JOURNEY (CHAPTER II) COMPLETE!
Players who completed Season 9 received their first Haedrig's Gift of the Season.  I was playing a Wizard, so I would be receiving some pieces of the Firebird's Finery set. 
The first Hadrig's Gift of Season 9 held the Helm and Gloves of the Firebird's Finery set.
 The flavor text on the Firebird's Talons says: "These clawlike gauntlets are cool to the touch, even in the presence of significant heat.  This requires further study."  – Vaetia of Zann Esu.
The flavor text on the Firebird's Plume says: "The stylized crests of this headpiece are cunningly enchanted to channel and dissipate sudden and dangerous discharges of arcanum." – Ennead Sage Resko.
Here is what the Firebird's Talons and Firebird's Plume look like when equipped.
Season Journey Chapter II (Season 9) is a post written by Jen Thorpe on Book of Jen and is not allowed to be copied to other sites.
If you enjoyed this blog post please consider supporting me on Ko-fi. Thank you!