Seekers Notes is an app game where the player becomes the Seeker and is tasked with finding lost items. The game includes finding hidden objects and hoping a quest item will drop upon a successful complete. There is a creepy story line that goes along with each quest.
Every so often, Seekers Notes offers players a connected series of quests that the player must finish in order to get the entire storyline. These are only available for a limited time. Creative Environment is the first quest.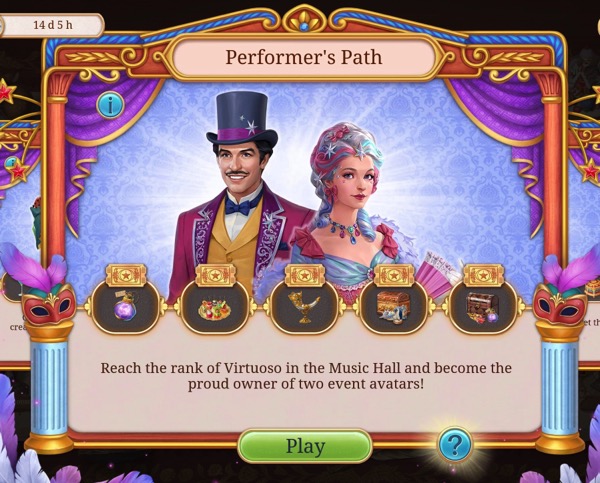 When there is a special event happening, the game gives the player a series of very decorative panels that connect to things in the event. The main purpose is to make it easy for a player to see how much progress they made – and how much is left to complete. The first panel focuses on leveling up the Music Hall location.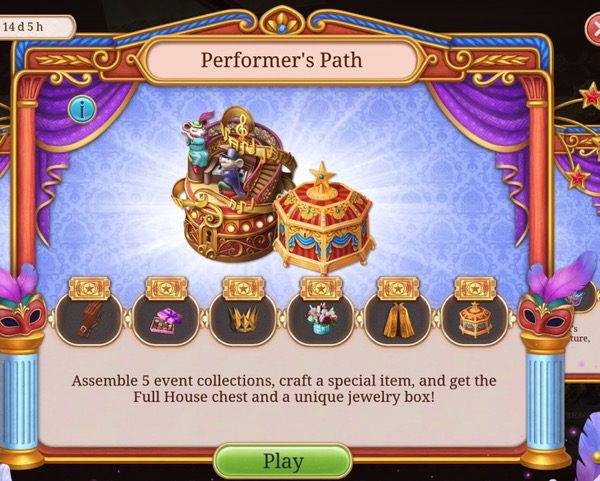 The second panel shows the player their progress in completing the quests that are part of the special event.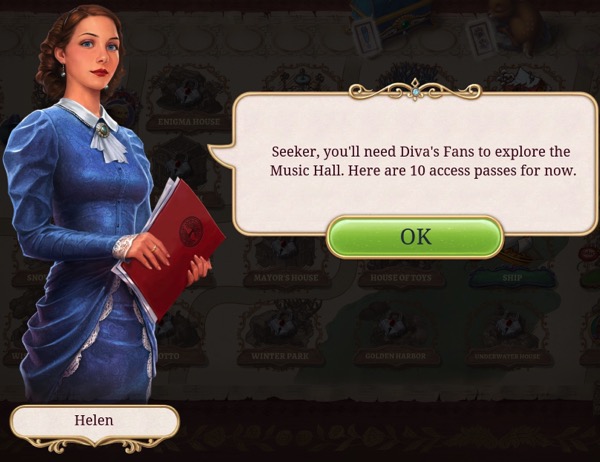 Helen: Seeker, you'll need Diva's Fans to explore the Music Hall. Here are 10 access passes for now.
Helen is the Mayor's assistant. She gives out many of the quests in the game. At times, it seems like her efforts are what holds the cursed town of Darkwood together.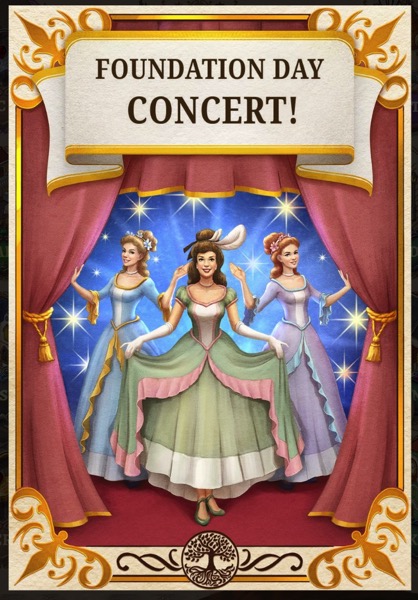 Foundation Day Concert!
Darkwood is a very old town, and the people like to celebrate its Foundation Day. It gives them a reason to put on a concert for everyone to enjoy.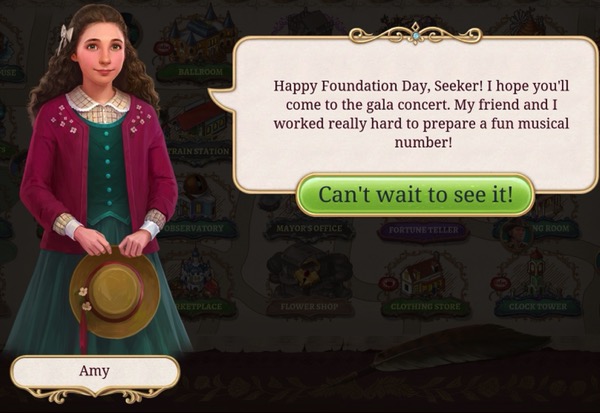 Amy: Happy Foundation Day, Seeker! I hope you'll come to the gala concert. My friend and I worked really hard to prepare a fun musical number!
Amy is one of the children in Darkwood. She is being raised by her grandfather.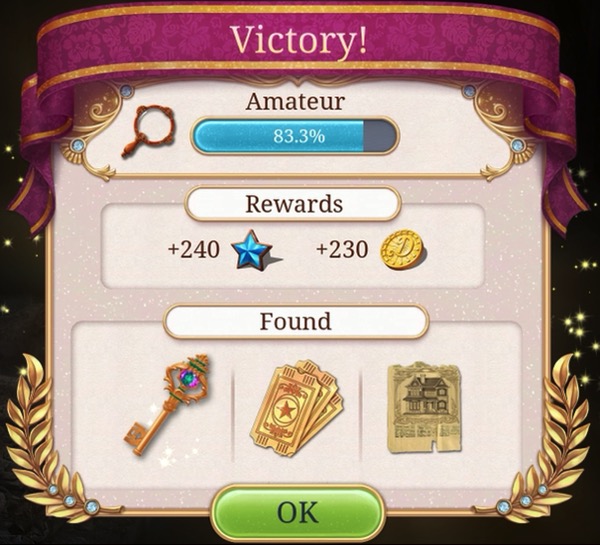 I found the key to the Music Hall!
The first thing a player must do is unlock the Music Hall. It is the location that the player will be required to play through multiple times, in order to receive specific items that are needed to complete quest chains.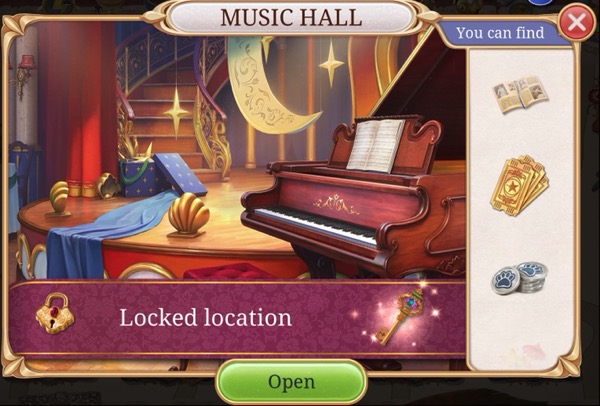 In order to access the Music Hall, the player must successfully complete any location in the game that they have already unlocked. The key to each location can be used once – and the location stays open after that.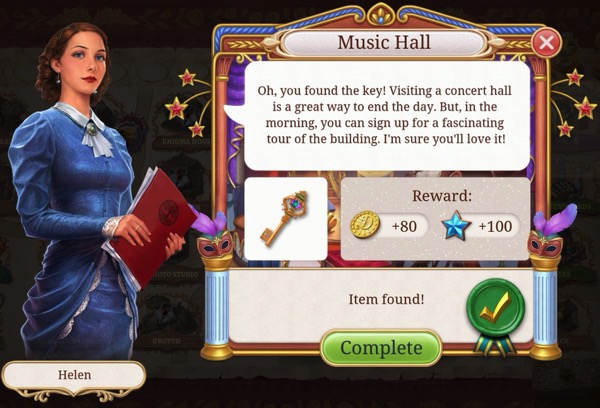 Helen: Oh, you found the key! Visiting a concert hall is a great way to end the day. But, in the morning you can sign up for a fascinating tour of the building. I'm sure you'll love it!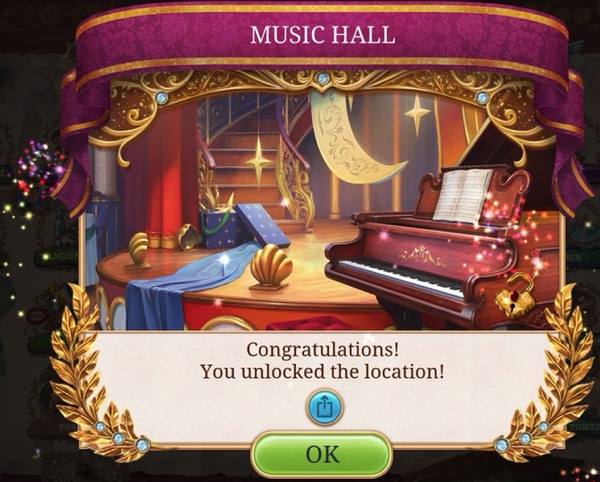 Congratulations! You unlocked the location!
When I make Seekers Notes blog posts, I avoid putting in images that show the inside of the locations. Doing so could be considered a spoiler. It would show a player what the special items they must find look like.
Music Hall: As it turns out, Darkwood is home to many world-famous stars! There are many theories that thry to explain why local artists are so successful, but they all have something in common. The truth is, anyone in Darkwood is allowed to perform on stage: the desire to please the audience and improve one's acting skills is greatly encouraged. One of the places where every aspiring performer can express themselves was and still is the Music Hall.
Newly unlocked locations start at the Novice level.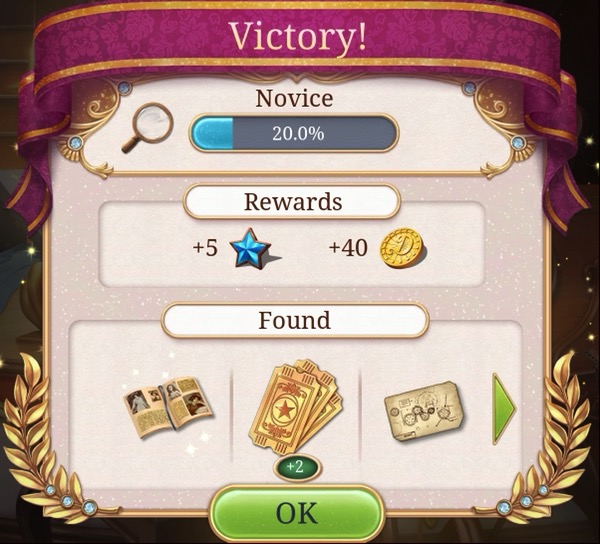 I found a scrapbook!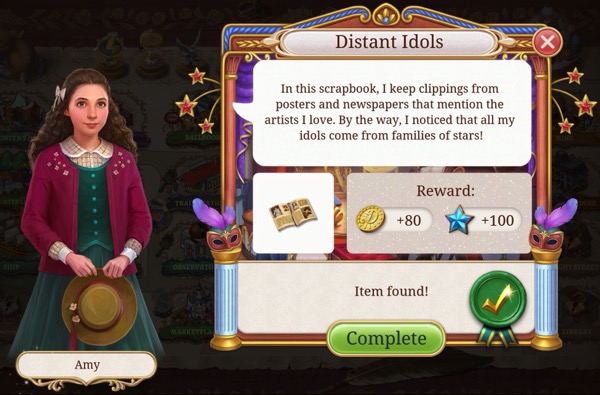 Amy: In this scrapbook, I keep clippings from posters and newspapers that mention the artists I love. By the way, I noticed that all of my idols come from families of stars!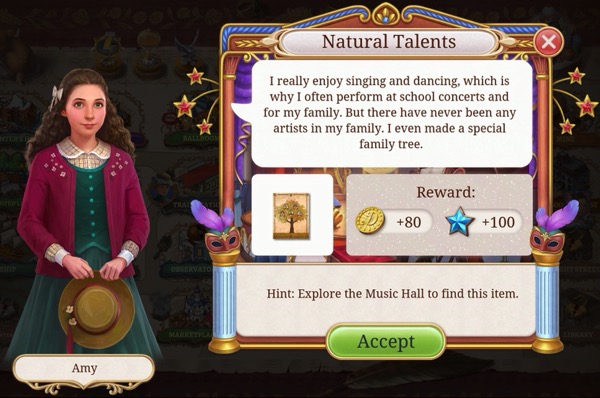 Amy: I really enjoy singing and dancing, which is why I often perform at school concerts and for my family. But there have never been any artists in my family. I even made a special family tree.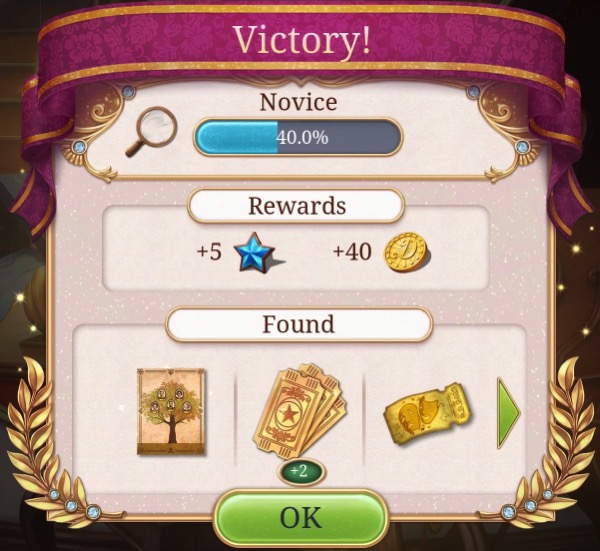 I found the family tree!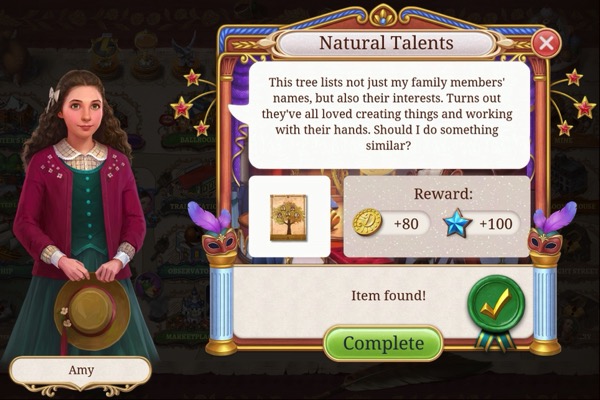 Amy: This tree lists not just my family member's names, but also their interests. Turns out they've all loved creating things and working with their hands. Should I do something similar?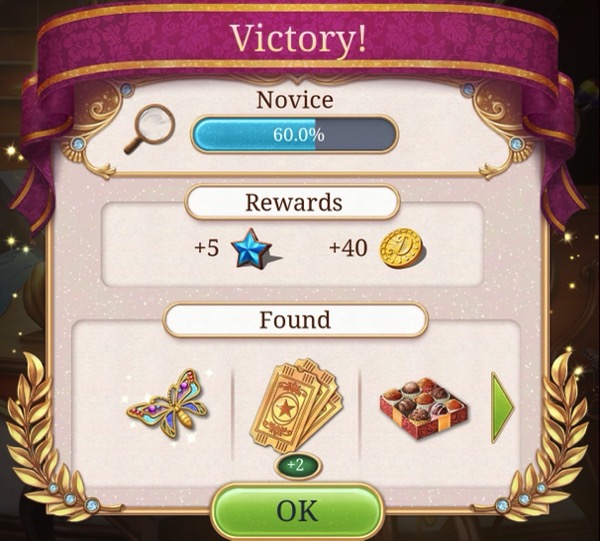 I found a brooch!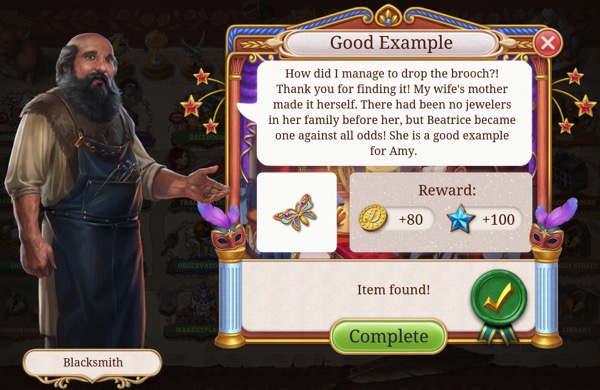 Blacksmith: How did I manage to drop the brooch? Thank you for finding it. My wife's mother made it herself. There had been no jewelers in her family before her, but Beatrice became one against all odds! She is a good example for Amy.
The Blacksmith is Amy's grandfather.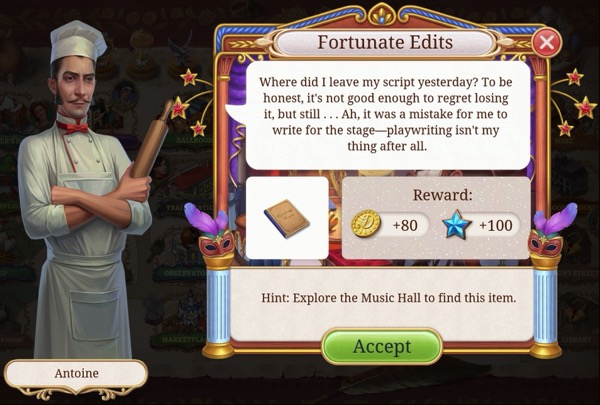 Antoine: Where did I leave my script yesterday? To be honest, it's not good enough to regret losing it, but still… Ah, it was a mistake for me to write for the stage – playwriting isn't my thing after all.
I found a script!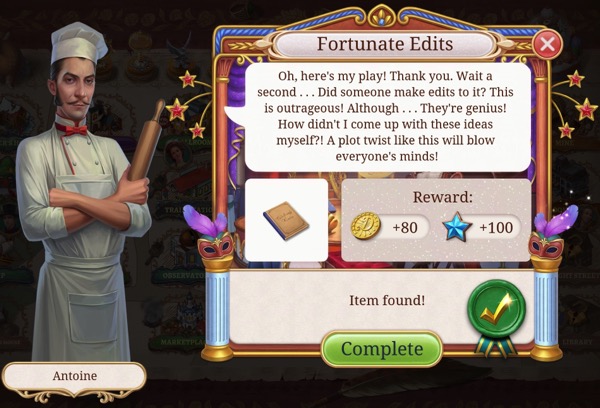 Antoine: Oh, here's my play! Thank you. Wait a second… Did someone make edits to it? This is outrageous! Although…They're genius! How didn't I come up with these ideas myself? A plot twist like this will blow everyone's minds.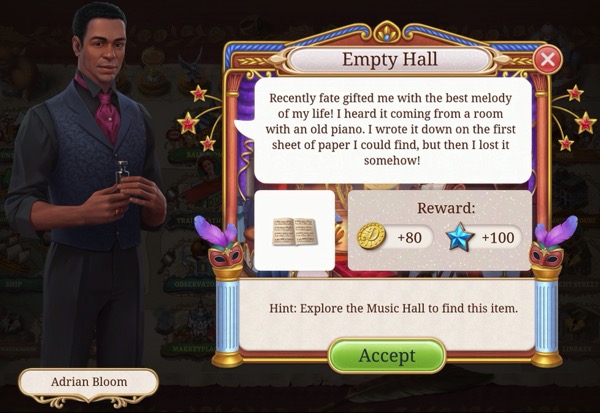 Adrian Bloom: Recently fate gifted me with the best melody of my life! I heard it coming from a room with an old piano. I wrote it down on the first sheet of paper I could find, but then I lost it somehow.
Adrian Bloom makes perfumes.
Victory! The Music Hall location is now at Amateur level.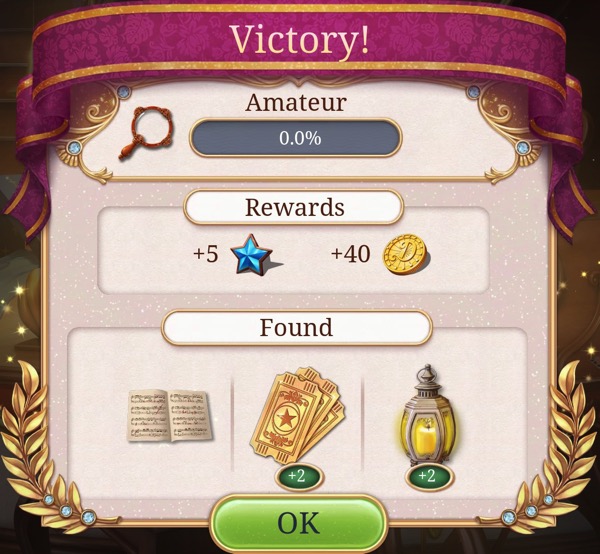 I found the music score!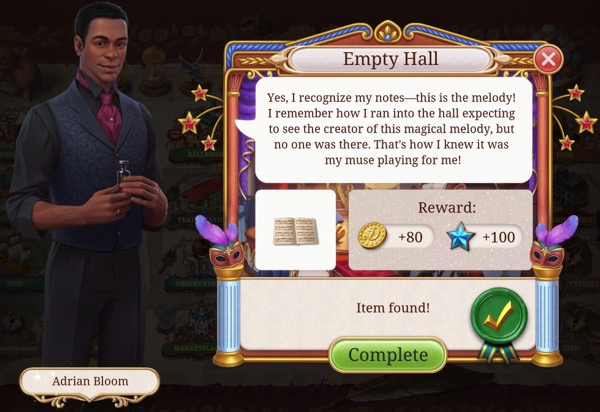 Adrian Bloom: Yes, I recognize my notes – this is the melody! I remember how I ran into the hall expecting to see the creator of this magical melody, but there was no one there. That's how I knew it was my muse playing for me!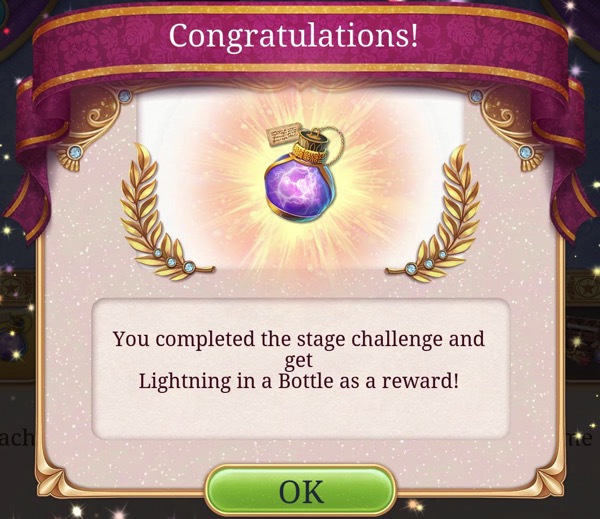 Congratulations! You completed the stage challenge and get Lightning in a Bottle as a reward!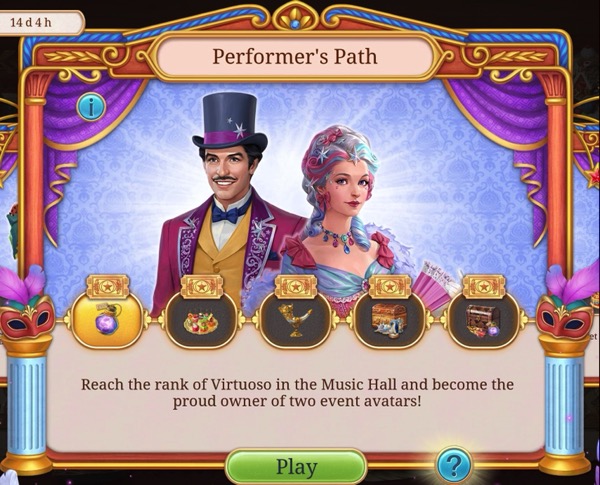 The first "bubble" in the image above is now filled in.
I have now collected almost all of the items required for the Creative Environment quest. The small boxes contain items that the player must obtain by placating monsters. Gather enough of those, and the player can make the last quest item appear.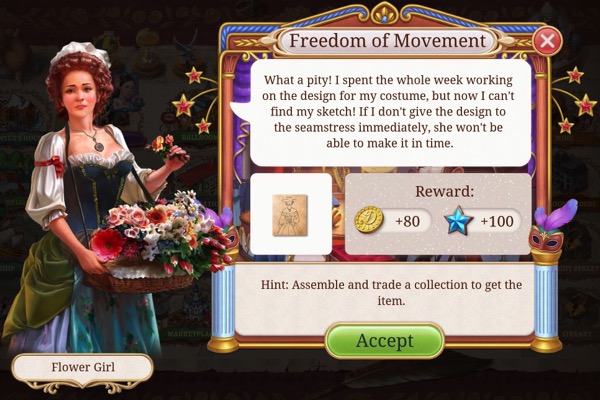 Flower Girl: What a pity! I spent the whole week working on the design for my costume, but now I can't find my sketch! If I don't give the design to the seamstress immediately, she won't be able to make it in time.
I was able to find the Flower Girl's design for her costume, but failed to take a screenshot of it.
Flower Girl: The wind blew the sheet of paper off the table, but someone placed it carefully on the windowsill. Oh, is this really my costume? I see some big changes that will make the dress more comfortable for dancing. Incredible!

I have now completed the Creative Environment series of quests.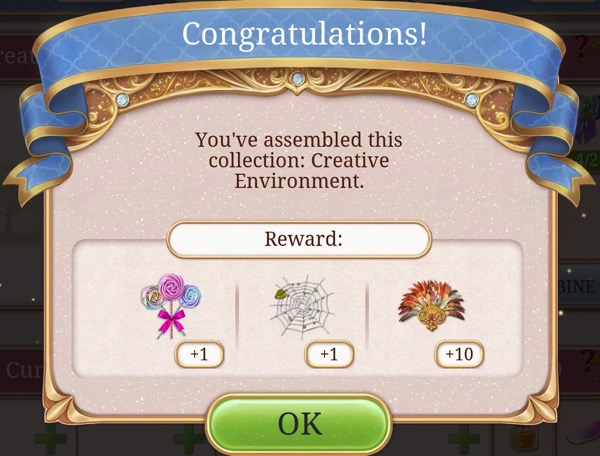 Congratulations! You've assembled this collection: Creative Environment.
Seekers Notes: Creative Environment Collection is a post written by Jen Thorpe on Book of Jen and is not allowed to be copied to other sites.
If you enjoyed this blog post please consider supporting me on Ko-fi. Thank you!
#Blaugust2021