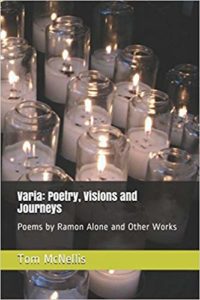 Varia: Poetry, Visions and Journeys includes poems by Ramon Alone and other works. It has poetry, inspirational writing, short stories, and more.
The book provides a definition of the word Varia: miscellaneous items, especially a miscellany of literary works."  I tend to like books that are a mixture of different kinds of writing and that do not fit neatly into a particular box or category.
Some of the poems in Varia were originally posted on the author's Ramon Alone Twitter and Facebook accounts. I love when people use social media in creative ways like that. There was a time when I filled a Twitter account with haiku.
When I read poetry, I like to go slowly. I read things over a few times, find some meaning if I can, and wait and see which poems stick with me. If I were to choose just one poem from Varia to highlight, it would be the one titled: "Behind the Walls".
The poem describes how home feels to a young person, compared with how home feels years later, after the person has gotten older. I suspect it was an observation on how people view things differently as they age. Kids want to go outside and play; adults want to stay home from work and relax.
As someone who survived an abusive childhood, I found myself relating to this poem that includes the word "dungeon". It definitely brought up a mix of emotions, as I looked back on what home used to be like. Things are much better today!
My personal interpretation of "Behind the Walls" is likely not what the author intended. That's the thing about poetry, though. The best ones make people feel something. The words in the poem are the same, but the color depends on each person's past experiences.
Another poem I really enjoyed is titled "Spirals". There is a beautiful phrase in it: "Spiraling upwards we charge toward infinity". I'm not sure how to explain why this particular phrase reached me. It feels like a mixture of hope and eternity.
"Downpour" is a short story that starts with a man who is driving through the rain to meet with his lover. It is, by far, the darkest, most twisted, piece in Varia. While this story may not be for everyone… I dig it. The ending was creepy, and violent, and exactly right. This one is for the fans of horror stories.
"The Warning" is a prelude to a dark fantasy series that Tom McNellis is working on, and is a bit of lore to start things off. The short story is about a mysterious stone box that someone, the reader does not know who, is trying to decipher. This short story has me very curious about what happens next.
Tom McNellis has released the first book in his No Gods Before Us series. The first book titled: "On Black Wings We Rise". I'm looking forward to reading it.
Varia: Poetry, Visions and Journeys – by Tom McNellis is a post written by Jen Thorpe on Book of Jen and is not allowed to be copied to other sites.
If you enjoyed this blog post please consider supporting me on Ko-fi. Thank you!